GARDAI ARE continuing their hunt today after a speed camera operator had to flee from his van after thugs torched it in the early hours of yesterday.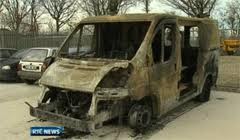 The attack on the speed van happened just after 3am on Saturday on the Inishowen Peninsula.
The van, which was located at Cashel on the main Carndonagh to Quigley's Point Road, is one of a number operated locally by a private company GoSafe who have a national contract with the Government.
Gardai remain at the scene of the attack looking for clues as to the identity of the arsonists.
The country's largest ever single road fatality took place on the Inishowen Peninsula on July 12th last year when eight men lost their lives in a two car collision outside Clonmany.
Garda Supt.Eugene McGovern revealed they are anxious to speak to two men, wearing bright hoodie-tops, who were driving a blue Peugeot Boxer-type van with a 10 LK 2796 registration about the incident.
They also want to speak to the driver of a white Transit van who was seen driving slowly past the speed van before it burst into flames.
"Two people exited their own vehicle and approached the front of the GoSafe vehicle.
"When they left to get back into their car and to drive away suddenly the GoSafe vehicle went up in flames. The operative had to make an emergency exit for his own safety.
 "There was a lot of people driving by this area at the time and no doubt somebody seen something suspicious and may be able to help us with our enquiries," he said.
This is the third attack on a GoSafe vans with previous van being set ablaze in both Wexford and Louth.
The attack has been condemned by local Fianna Fail TD Charlie McConalogue who said nobody had the right to attack someone simply doing their job.   
"Everyone has to condemn it and it is absolutely shocking that someone would carry out an attack like this.
"To set fire to a van while someone is inside it doing their duty is absolutely wrong.
"Speed cameras may not be universally popular but they are there for a reason and that is to try and bring about a further reduction in our road deaths," he said.
The attack comes following messages posted on social networking sites in recent days which warned of a possible attack.
The message was posted on a site dedicated to alerting motorists to speed vans across the country.
One Donegal-based poster warned "Burn them all out. They make me want to return to my f***** arson days! Saw one burnt out in Dublin, what a pretty site. One down, countless to go….".  
Ends
Tags: