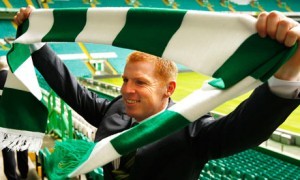 Celtic boss Neil Lennon says he never considered leaving the club despite bigoted bomd and bullet threats to him and his family.
Lennon was speaking at a press conference for the first time since early March, after a dugout ban.
"It puts a slight strain at home at times, but not overriding," said the Co Armagh man.
"I love the job, my family know how important it is to me, and they've been fully supportive throughout all of this."
Bullets had been addressed to the 39-year-old, and threats had appeared on the social networking site Facebook.
Lennon had not spoken before or after a match since before the controversial Scottish Cup fifth-round replay victory over Rangers at on 2 March.
At the end of that match he and opposing assistant manager Ally McCoist had to be separated at the full-time whistle.
The Parkhead boss was subsequently handed an additional four-match touchline ban by the Scottish Football Association, reduced to one after a legal challenge.
That accompanied a pre-existing four-match sanction for being sent to the stand at Tynecastle earlier in the season.
Lennon is able to return to the Celtic dugout for Tuesday's 1800 BST kick-off away to St Johnstone in the Scottish Premier League
"I'm glad the ban's over. It means I can back to doing what I want to do, and it encompasses all aspect of the job again," he said.
"I hope there is a positive reaction from the players but they have played quite well in the period I have been out.
"We have a big game tomorrow night and we are looking forward to it."
He also claims he felt the benefit from the self-imposed media ban.
"There was a lot of adverse publicity which was taking the shine away from the team and their performances and focus," said Lennon.
"So I just decided to have a break. I feel fine."
Tags: