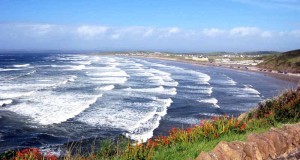 CRAZED boy racers caused havoc on a well-known Donegal beach, an angry TD said today.
Donegal South West TD Thomas Pringle hit out at both boy and girl racers who used Rossnowlagh beach for rallying races during the hot weekend weather.
Donegaldaily has been told that up to six cars were involved in rallying races along the strand at the beach.
And a French tourist who contacted us said today: "We went out for a nice walk on the beach because the weather was so beautiful and then there were all these cars driving so fast.
"It looked as if they were doing more than 100 kilometres per hour. It was very very dangerous. If that happened in France these young people would be jailed.
"It is such a shame because we really loved our visit to Donegal; it is so beautiful. But this would put us off from coming back again."
Independent TD Thomas Pringle told us: "I have asked the Gardaito ensure that the road traffic laws which are enforced on the roads are also enforced on the local beaches in the North West.
"We cannot have a repeat of this mindless behaviour, especially during the summer months.
"I would appeal to these people to wise up before they kill themselves or worse kill other people who use our beaches for recreational purposes.
"It is very sad that despite all the efforts of the Gardai and the road safety organisations that there are still people in our society who think this sort of behaviour is acceptable."
It's understood Gardai are investigating the incidents and are following a definite line of inquiry.
One local man on the beach this morning added: "The boys should be locked up. It's just crazy for anyone to drive the way they did on a public beach."
Tags: