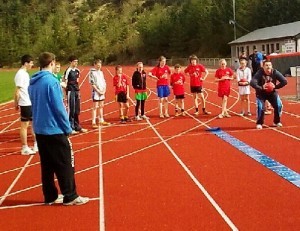 Glorious weather on Saturday and Sunday greeted the final Rising Stars, Ulster/ANI,final squad days at Shercock, Saturday, and Donegal Town, Sunday.
This was the eighth occasion, since September that the groups have come together and received expert coaching advice and direction.
The final session included the following tests 30metres, standing long jump, 2k medicine ball chest push and 800m with the young athletes choosing event specific coaching for the final 45 minutes in either High Jump, Hammer/Discus and Walks middle distance.
The culmination of the 2010/2011 Rising Stars programme will take place at the Mary Peters Track on the 30th April when young athletes from the four Ulster regions –Belfast/Derry/Donegal Town and Shercock are invited to participate in a multi event competition -100m/long jump/shot putt and 800m.
This final get together will also include a social get together barbeque for athletes/parents/coaches and supporters.
At the conclusion of the Donegal Town and Shercock sessions Eamon Harvey, Athletics Ireland RDO – on behalf of ANI/Ulster athletics thanked and congratulated the young athletes for availing of the coaching opportunity, coaches/clubs/parents for supporting and encouraging the young athletes to attend and the numerous L2 and L3 coaches who assisted at the various sessions during the winter months.
Tags: