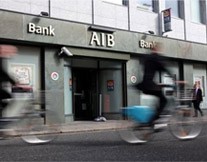 AIB is set to slash dozens of jobs in Donegal and close some branches as part of a nationwide purge of staff announced this morning.
The bank has announced that it expects to cut 2,000 jobs across the country during 2011 and 2012.
It says that with reduced staff numbers, the sale of certain businesses and the winding down of non-core assets a new 'core' bank will be established.
The bank also announced shocking total losses of more than €10 billion.
Massive job cuts had been expected at AIB as the bank is now just over 92% owned by the State, has to restructure, sell assets and raise cash to get back to profitability.
AIB says that business and market conditions remain challenging and the environment for generating operating income generation remains difficult.
It says the speed at which AIB recovers and returns to a position of profitability is heavily influenced by Ireland's economic prospects.
For last year, the bank has reported a total loss for the group of €10.2bn – compared with a loss after of €2.3bn in 2009. It reported losses on loans transferred to NAMA of €7bn.
AIB executive chairman David Hodgkinson blamed property loans for the disastrous results.
He told Morning Ireland on RTE1 that there had been a kind of 'collective madness' on property and that most of the bank's loan problems were based in the Republic of Ireland.
Mr Hodgkinson said the bank wanted to engage with customers in difficulty and work with them.
He said the 2,000 job cuts would be spread across the organisation, and the vast majority of lay-offs would be voluntary.
Mr Hodgkinson said the bank's search for a new chief executive was progressing well, but it was 'cranking up' the process only now after the results of the stress tests.
General Secretary of the IBOA Larry Broderick said the AIB announcement was devastating for workers at the bank.
The Minister for Public Expenditure Brendan Howlin said it was a bleak day for the workers. He said the Government could not micro-manage the banks.
Tags: