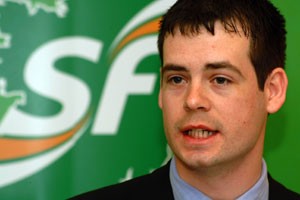 Sinn Féin Spokesperson on Finance Pearse Doherty has welcomed the Government's commitment to reverse the cut to the Minimum Wage – but then claimed that Fine Gael are using this promise as a political cover for wage cuts on the lowest paid.
Speaking at Leinster House the Donegal South West Deputy said he welcomed the new Government pledge.
However he went on to claim: "Fine Gael have also made clear their intention to cut the wages of hundreds of thousands of low paid workers.  The European Commission and IBEC are pressurising the Government to force down the cost of labour by slashing the wages of the lowest paid – those covered by the Joint Labour Committee agreements and Registered Employment Agreements.
"The JLC and REAs cover more than 300,000 of the very lowest paid workers in our society.
"They are based mainly in services industries, hospitality and trades, many of whom are part-time and the majority of whom are women.
"Many of these workers are living on or below the Governments own poverty line. These are the people who Fine Gael, supported by IBEC and the European Commission, want to target in their quest to drive down wages."
Mr Doherty said it was clear to him that the reversal of the minimum wage cut, although welcome is being used by Fine Gael as political cover for wage cuts on the lowest paid.
He said he expected such a policy from Fine Gael – but not Labour.
"Workers have a right to know where Labour leader Eamonn Gilmore stands on this issue and I would ask him to make his position known," he said.
"Driving down the wages of the lowest paid will push thousands of families further into poverty. It will also create poverty traps and in some cases a disincentive to work. Crucially it will also damage the economy, as people will have less money to spend in the local economy, resulting in even more unemployment."
He added: "If  Fine Gael are serious about protecting the low paid they will not only reverse the cut to the minimum wage but will also protect the wage rates agreed under the JLCs and REAs.
"However if they proceed then it is up to the Labour Party to stand by working people, do the right thing and stop the race to the bottom in terms of wages.
"For our part Sinn Fein will continue to campaign alongside trade unions and other campaign groups to make sure that the already poor wages and conditions of low paid workers are protected from further attack."
Tags: