A TOP Donegal group on the verge of the big time are battling it out online to land a prestigious gig – alongside the Arctic Monkeys!
And today donegaldaily.com is launching a campaign amongst our tens of thousands of online readers here at home and abroad to support the brilliant MOJO GOGO in their quest for stardom.
The band – Singer, Niki Pollock and guitarist, Paul Rogers are both from Dungloe while drummer, Jordan Carty and bassist, Keelin Gallagher are from Donegal Town and Dunkineely respectively – have already rocked some of the country's top venues.
And now MOJO GOGO are in with a chance to play Benicassim in Spain from 14th-17th July with major artists like The Strokes, Arctic Monkeys and Arcade Fire.
Drummer Jordan told donegaldaily: "We are based in Derry and we know donegaldaily has a huge following because we are on the site all the time.
"We would love it if the whole county – and all your tens of thousands of readers – voted for us online.
"It would be absolutley amazing to win and play alongside some of our favourite bands such as Arcade Fire, Strokes and Arctic Monkeys.
"It's fantastic even to get the chance to be in the competition and for people to hear our songs. It's an absolutely huge opportunity for us."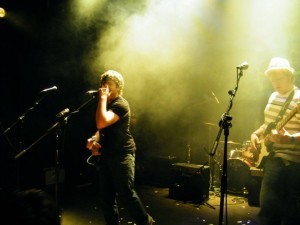 Singer Niki added: "We would ask everyone to get online and vote for us. We would really really appreciate it."
The band has received a lot of attention in their short career and after releasing their debut CD, 'The Rounce E.P.' to some rave reviews, the band are surely on the up.
They have played some of the country's most respectable venues such as Whelan's and The Village, and have dates booked in Radio City, The Sugar Club and an in-store in Tower Records, Dublin in promotion of their EP.
One reviewer said of their: "Like a cross between Elvis Costello and Ska, MOJO GOGO are infectious, fun, and exciting!"
So what are you waiting for go online now by clicking the link and vote for MOJO GOGO here: http://www.supajam.com/fib2011/entry/Mojo-Gogo.
'The Rounce EP' can be listened to online at:
www.mojogogo.bandcamp.com
www.breakingtunes.com/mojogogo
You can visit the band on:
Tags: