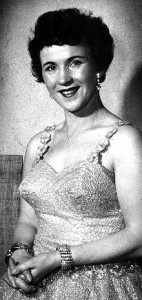 UTV is set to film a documentary tribute to one of Donegal's most famous singers – the brilliant Bridie Gallagher.
Bridie, known professionally as The Girl from Donegal shot to fame in 1956 with her recording of 'A Mother's Love's a Blessing'.
Picture This Productions are currently in development with a documentary for UTV entitled 'No-One Quite like Grandma'.
The 30 minute documentary, directed by Una Murphy will examine the life of the Creeslough singer through footage of her tour of America.
During her six decade career, she toured America, Canada, Europe and Australia playing in Carnagie Hall and the Sydney Opera House. She holds the record for the largest number of people in attendance in the Albert Hall London.
Produced by Anna Marie McFaul and executive produced by UTV Managing Director, Michael Wilson. 'No-One Quite like Grandma' will see Bridie's granddaughter, Teresa examining her grandmother's career and will feature previously unseen footage of Bridie's world tour as captured by her husband on his video camera in 1959.
The documentary is to go in to pre-production in early May and is set to shoot in June.
It is expected that the half hour project will be edited in Belfast's Imagine Media and will broadcast in the Autumn on UTV.
Bridie was born in Creeslough in 1924 and is famous for her renditions of many songs including the Boys from County Armagh.
She was honoured by Donegal County Council in 2005 and now resides in Belfast.
Tags: