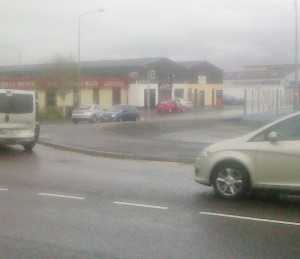 ONE way systems in many Donegal towns cause confusion.
And last night in Letterkenny the driver of this Nissan Micra was definitely confused – driving the wrong way up a one way street.
Drivers of other vehicles passing Swilly Meats (driving the right way) down Canal Road had to swerve to avoid the errant motorist.
And after a few close shaves and a few noisy horns, two motorists had the decency to help the elderly Nissan driver by giving him the time to do a three-point turn so he could finally drive the right way.
Could have been worse – he could have been a pedestrian trying to cross the same road….there's not a single proper pedestrian crossing on Canal Road.
Send your pictures to info@donegaldaily.com
Tags: