Sinn Féin TD for Donegal South West Pearse Doherty has hit out at Fine Gael's refusal to guarantee that Údaras na Gaeltachta will retain it's enterprise functions as recommended in the 20 Year Strategy for the Irish Language.
After sustained questioning in the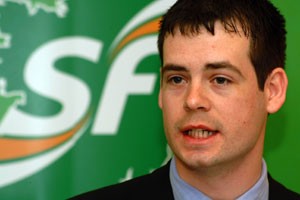 Dáil from Deputy Doherty, Minister Dinny McGinley refused to confirm whether or not these functions would be retained.
Speaking from Leinster House Deputy Doherty said he was shocked that Minister McGinley  could not give him a guarantee on Udaras na Gaeltachta's future enterprise role.
"On average 1,000 new jobs are created in the Gaeltacht each year, contributing €1.5 billion to the local economy. Údaras na Gaeltachta plays a vital role in this creation of jobs.
"The proposed Gaeltacht Bill which is currently being drafted will give affect to the new Údaras na Gaeilge agus Gaeltachta structure which will replace Údaras na Gaeltachta.
"After sustained questioning from myself in the Dáil today, Minister for the Gaeltacht Dinny McGinley, in a clear breach of the 20 Year Strategy refused to confirm whether or not enterprise functions for the Gaeltacht will be retained with this new body.
"I am extremely disappointed that Minister McGinley will not confirm that Údaras will retain their enterprise and job creation functions.
"The removal of these functions, if this is the case, will come as a crushing blow to the Gaeltacht which is already under pressure from funding cuts and high unemployment.
"After news yesterday that the Irish Speakers Scheme is to be scrapped is this another example of Fine Gael's attitude to the Gaeltacht and the Irish language?
"I would ask the Minister to state clearly and unequivocally – will the enterprise and job creation functions of Údaras na Gaeltachta be retained?"
ENDS
Tags: