A property developer has applied to build a massive indoor sports arena in Letterkenny.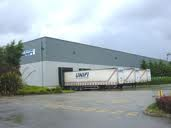 Businessman Michael Hegarty is behind plans to turn the old UNIFI plant in the Kiltoy area of the town into a multi-purpose sports centre.
Plans for the development have been lodged with the local town council by the businessman.
Mr Hegarty is well-known in business and property circles and he is connected with several major projects including Letterkenny's Courtyard Shopping Centre.
Planning permission for a number of light industrial units had already been granted for the site which was formally known as Plant II on the old UNIFI site.
As well as the sports arena, permission has been sought for a canteen and office facilities.
The sports arena will be the second such facility in Letterkenny.
The Aura Leisure Centre near Ballymacool already has a swimming pool, gymnasium as well as indoor and outdoor sporting facilities.
The UNIFI plant, which made yarn and had up to 900 employees in the town, closed its doors around 2004.   
Since then a number of different suggestions have been made for the site of the huge derelict plant.
Ends
Tags: