Donegal road haulage boss John McLaughlin will press ahead with his mass road protest unless he hears from Minister for Transport Leo Varadkar by Wednesday night.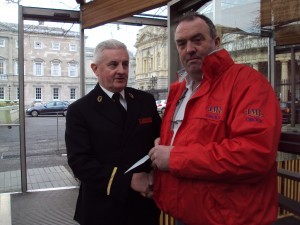 Mr McLaughlin, who owns JML Transport in Convoy, revealed Minister Varadkar is to meet with Finance Minister Michael Noonan to discuss the price of petrol and diesel.
However the Donegal businessman said that unless the Minister comes back with real proposals to reduce the cost of petrol, he will bring the country to a standstill.
"We will wait and see what Minister Varadkar comes back with on Wednesday or possibly Thursday when he meets with Minister Noonan.
"But I am letting them know now that if a realistic reduction of up to 30c or more is not brought in then we will press ahead with our plans.
"It's no good them knocking off 3c one day and putting it up by 2c the next day. They need to knock off up to 30c because people are suffering and it's just not on," he said.
Mr McLaughlin revealed that road hauliers are now pumping up to a million litres of fuel into their vehicles while overseas because the cost to fill them up here is too expensive.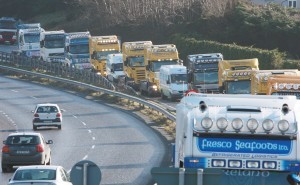 But he revealed that his actions are also on behalf of the ordinary people of Donegal.
"It started off as a gripe on behalf of road hauliers but everyone appreciates now how much this is affecting ordinary people.
"Unless you really have to make a journey now you won't because of the price of filling up a car with petrol or diesel.
"It's not just about the cost of transporting goods. It's about people travelling to see old people or visiting people in hospital.
"That especially matters in Co Donegal because it is such a big county. If people live in Malin and they have a relation in hospital in Letterkenny, they will think twice about the cost of visiting them and that's a disgrace," he said.
Mr McLaughlin has already held massive truck protests in Letterkenny and also travelled from Donegal to Galway and through the Midlands before handing a letter of protest about fuel prices in at Dail Eireann.
Ends
Tags: