A Donegal family have been forced to rush home from holiday after their home was gutted in yesterday's savage gorse fires.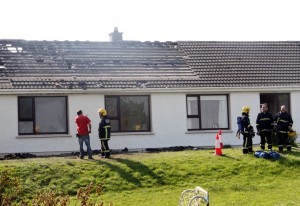 The family from Bunbeg are holidaying in Portugal but have been forced to cut their vacation short after friends broke the horrific news to them yesterday afternoon.
The family's bungalow home at Knockastoller was badly damaged as our pictures show.
One other house was damaged as well as two garages and hundreds of acres of land.
A total of five units of the fire service from Dungloe, Gaoth Dobhair, Falcarragh, Glenties and Letterkenny rushed to the scene.
Another local man Seamus Gallagher, whose garage also caught fire, lost a number of machinery items including lawnmowers.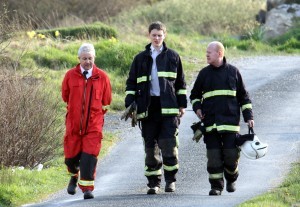 "Thankfully nobody was hurt but it's just not a very good time of year to lose this equipment before the start of the summer," he said.
Another garage which was damaged also belonged to a local fire officer.
A full investigation is now underway to find out how the fire started.
Bobby McMenamin, Assistant Chief Fire Officer, appealed to people to be careful during the present dry conditions.
He also revealed that there were OTHER fires in Loughanure, Churchill and Crolly which have all since been brought under control.
"With the dry weather and a strong breeze a times, we have the perfect conditions for these gorse fires.
"We would appeal to people not to light fires outside because they can blow things around and it can catch.
"We were stretched to our limits today but thankfully nobody was injured although there was considerable amount of damage caused.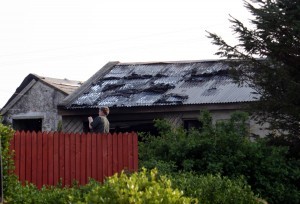 "Today is a real example to people at the devastation which can be caused by people not acting responsibly. We still do not know how today's fire started but I would again appeal to people to be careful.
Gardai were also forced to introduce a number of road diversions to take people away from the paths of the fires.
One eye-witness revealed how he saw slates coming off the roof of the house
"It caught hold very quickly and had already reached the house before the fire brigade arrived. The lads did their best but by that stage it was too late.
"As I was arriving I could see some of the slates coming off the roof. It was just very lucky that there was nobody inside at the time," he added.
* ALL PICTURES BY EOIN AND MARIE MCGARVEY
Ends
Tags: