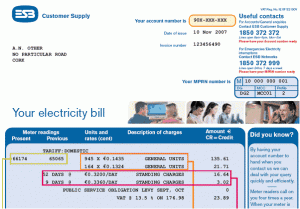 Electricity: Why are my bills too high?
By Jim Duffy
Last  month, I opened by electricity bill and almost had a heart attack. I was expecting it to be around €120-160. Due to the snow, we had been home a little more than usual but it was it was an unaffordable €290.
But then I spotted the 'E' which means estimate.  Aha, there was hope!!
I went through a few cabinet drawers to find that elusive key to open the meter box key (they cost a euro in any hardware shop). Finally, with key in hand and bill I ran outside and opened the meter box. I spied the current meter reading and wrote it down on the bill. Low and behold, the actual reading was much less than the estimate.
So now, I worked out what I actually owed. It was only €140- less than ½  of what I was being charged. (If you don't how to work this out don't worry just ring the supplier you are with and tell them the actual reading and then request they reissue a new bill.)
Ok I know that when the meter guy comes and reads the bill next time I will get a nice soft bill, but you know what I would rather hang onto my cash now.
 The basics:
The electricity you consume is counted in Units or kWh (kilo-watt-hours). The number of units you are charged for are based on  the difference  of two readings. One or both of these readings could be an estimate.
You pay around 15cent per unit depending on supplier – this rate usually makes up the majority of the bill. A kWh or kilowatt is 1000Watts used in one hour.
It's like ten (one hundred Watt) bulbs on for 1 hour OR  one (one hundred watt) bulb on for 10hours both  costs 15c
Energy is what you pay for and can be simply summed up as POWER x TIME
How to save money on bills?
Change your supplier to get the cheapest price/unit. There are now four suppliers to the domestic market making it more competitive than in the past.
Reduce the power or wattage (Change out all your standard lights now – don't wait for them to die). Chose A-rated electrical appliances
Reduce the Time your appliances are on. Using timers, occupancy or daylight dimming
For commercial businesses bills are a little more complicated particular with regard to the appropriate tariffs. Nevertheless substantial savings can be made by understanding if the business is on the correct tariff and availing of a free energy assessment from SEAI.
If you would like any more information on your domestic or commercial bills please feel free to call me on 085-7190000 or send your question to polarber@eircom.net
In the meantime, the next time your passing a hardware shop don't forget to pick up your meter box key and avoid the chest pains.
Tags: