Donegal is set to bask in brilliant sunshine for at least another two days with temperatures in many places across the county to reach 20c today.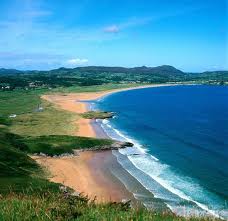 The familiar sound of lawnmowers trundling across gardens and ice-cream cone machines breaking down was evident from Bundoran to Rathmullan in the past couple of days.
And although there is a heavy chance of patchy showers for the weekend, Met Eireann say temperatures will remain well above average of this time of year.
There is already talk that this April could be in line to be one of the driest for many years.
Thousands of people are expected to flock in and out of the county from today onwards with the arrival of the Bank Holiday weekend.
Gardai have already issued warnings asking people to slow down on the roads.
Routine Garda checkpoints will be manned as well as the mobile speed camera vans to ensure that people are keeping safe on the roads.
Dozens of Easter activities are planned for across Donegal including numerous Easter eggs hunts (the one in Glenveagh is our favourite with at least 200 hidden eggs!)
The good news for anyone planning on hitting the beaches around Donegal's coast is that all our Blue Flag beaches have kept their awards and remain well kept.
And while you're out and about, donegaldaily.com wants to hear from you.
If it's a video clip or a wacky picture that you come across in the next couple of days, send it to us and we'll put it online.
We can be contacted on info@donegaldaily.com
Ends
Tags: