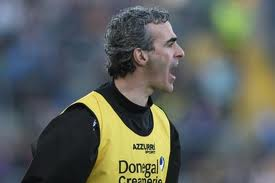 DONEGAL MANAGER Jim McGuinness has defended referees over their inconsistency after meeting one of them recently.
McGuinness wanted to know why Fermanagh man Martin Higgins had been so "overly sensitive" during the recent league game between Donegal and Laois; the same fixture as this Sunday as the Division Two final at Croke Park. Higgins awarded 28 frees in the first half.
"I left the conversation (with Higgins) feeling sorry for the referees," said McGuinness in today's Irish Times.
"They are under phenomenal pressure. We had the same referee the day we played Meath and my understanding is he got a very, very hard assessment by the assessor. He tried to rectify that the following day and I understand he got a very hard assessment again since that.
"There are 26 or 28 referees in a panel and there are 16 of them that will be refereeing in the championship so there are at least 10 who are not going to make the panel so that is pressure first of all.
"I was also informed there is a panel of assessors and not all the assessors get to assess in the championship so they have to pick every single technicality out for their points to be high so you are in a position where referees and assessors are fighting for stripes."
McGuinness told the newspaper that managers needed guidance.
"I think the GAA should come out and be more transparent with the referees and the assessors. I would say it is not the referees' fault. They are under phenomenal pressure to make the cut for the All-Ireland series.
"In my estimation, the referee is the talking point 70 per cent of the time coming out of the game now because of fussy fouls, wild technical fouls, one foot here, one foot there. It drives supporters, managers and players crazy and there is nothing majorly wrong with the game only it has become really, really technical now which is damaging to the fluency of the game."
McGuinness said GAA was copying English soccer – and this needed to stop.
"We have got a cultural identity in this country and these are our indigenous games. We don't need yellow cards. If you put your foot over the line in a game of soccer the last couple of years they are pulling it up. All of a sudden now in Ireland it is the same thing. We had a fella booked for diving, our full back who if you knew him you would know he wouldn't do that. That is your full back in the first 10 minutes so there are a lot of things going on that are not reflective of our indigenous sport."
McGuinness confirmed intercounty managers, unlike their rugby counterparts, are not permitted to speak with referees before a game to ascertain what the referee will not tolerate.
"There is a wee bit of an 'us against them' situation but let's try and get it right by working together. It's about respect," he tells the Irish Times.