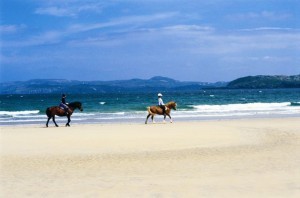 FORECASTERS are divided once again over our weekend weather – with RTE being rather more gloomy than the BBC over how Donegal will fair over the weekend.
This afternoon Donegal baked in temperatures over 21C in places.
And with the Northern holidays started, there has been an increase in the number of tourists in the county in the past 48 hours.
The outlook for the weather over the weekend however is good (if you stick to the BBC that is!).
There may be showers in the south west of the county tonight and tomorrow evening but any rain will clear quickly to leave bright sunny weather for most.
The outlook for Sunday is good with temperatures of around 16c.
And there will be more sunshine right through until Wednesday at least, though it will be cooler if winds change – as forecast – to a northerly direction.
Spare a thought for anyone who headed off to Spain in the past few days…the south and west of the county and Portugal has been lashed with the sort of Easter rain we normally get.