Singing sensation Susan Boyle has flown into Donegal and Derry for a secret Easter visit.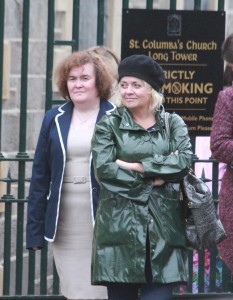 The Britain's Got Talent star arrived in Derry on Friday night accompanied by a female companion.
The pair were chauffered around the city in a 'people carrier' and did a tour of the city's famous walls.
The millionaire singer based herself at the Tower Hotel in the heart of the city.
Last night she left the hotel wearing a white trouser-suit and went out for a meal to well-known local restaurant Browne's.
The star looked relaxed at she attended 10am mass at St.Columba's Church at Long Tower.
Wearing a cream dress and blue-tailered jacket, the star waved at passers-by as she came out of church.
"It's great to be back in Ireland. I hope you are all keeping well. I'm having a really lovely time and the weather is great," Susan told Mass-goers.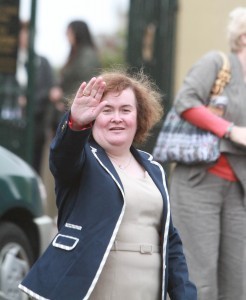 The star also visited West Donegal where her parents Bridget and Patrick are from.
Susan says her favourite holiday destinations are Donegal and France.
Before hitting the big time after stunning Simon Cowell, Piers Morgan and Amanda Holden with her voice, Susan often visited Donegal.
She often sang in local houses and at Mass.
Ends
Tags: