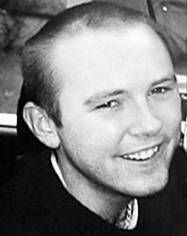 A Killybegs family is in mourning for the second time for a son lost at sea – a brother of a man who died in Cork this week also drowned nine years ago.
The body of Oliver Cunningham (43), was recovered close to the slip at the pier in Castletownbere yesterday afternoon.
His brother Matthew, pictured right, who was just 25 at the time, drowned off Killybegs harbour in November 2002.
Tragic Oliver had been aboard the fishing trawler the Patrick C, based at Clogherhead in Co Louth. The trawler had docked in Castletownbere in Co Cork overnight on Monday.
He was reported missing early yesterday morning and a search operation began at 11am.
His body was spotted in the water close to the pier by Castletownbere lifeboat volunteers two and half hours later.
It is understood he had been out socialising with friends on Monday night.
Fellow crew members raised the alarm when they realised he had not returned to the vessel yesterday morning.
Mr Cunningham had been living in Co Louth in recent times. His family at St Catherine's Road in Killybegs are devastated by the loss of a second son.
A postmortem is to be carried out at Cork University Hospital today.
Speaking about the tragedy yesterday local TD Thomas Pringle said: "It's a terrible blow. It's been a number of years since we have had anything like it. He is well-known in the locality and our thoughts are with his family."
Tags: