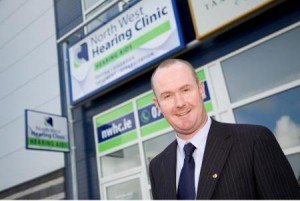 DUMB ramraiders who caused havoc overnight in Letterkenny made off with just four bottles of wine.
The gang are believed to have raided at least FOUR premises in the town including The Wine Buff, the Riverside Shopping Mall, the North West Hearing Aid Clinic (right) and Tommy Kees Petrol Station in Ballyraine.
There are also local reports of two more raids in the town.
However when the gang raided the Wine Buff – which stocks some of the finest wines available in Co Donegal – they took just four bottles…..of the cheapest wine!
Three men in their 20s have been arrested following the incidents and Gardai say they are looking for a fourth man.
Two cars were also stolen and then later set on fire during the night of terror in the Cathedral Town.
Crazed thugs began their rampage shortly after midnight by trying to steal two cars – one in Windmill View and another at Killylastin.
The three men being questioned in Letterkenny Garda Station are aged 20, 21 and 28.
Inspector Vincent O'Brien has appealed for anyone who may have witnessed any of the incidents to come forward.
He told donegaldaily: "The investigation is ongoing but there have been a number of ram-raid type incidents across the town. I can confirm that three men are in custody in relation to the incidents.
"Anybody who may have any information on any of these incidents can contact us ion complete confidence," he said.
The Wine Buff has already re-opened, a member of staff saying it was business as usual there today.
The owner, she said, had gone off for the day to play golf!
North West Hearing Clinic owner Padraig McGinty said he was annoyed at the damage done to his shop – but was baffled as to why his premises was ramraided.
"If they wanted a hearing aid, they just have to ask," he said.
He brushed off the incident and said business is also back to normal.
Gardai are now hunting a fourth person in connection with the incidents.
Tags: