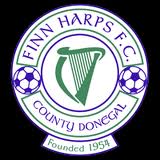 A LONGFORD Town fan who has travelled to matches at Finn Park for more than 15 years says he will never return – claiming a section of Finn Harps fans last week were 'an absolute disgrace'.
Longford man Brendan Connolly also insisted that the Harps fans should have been ejected from the stadium because of their foul-mouthed behaviour.
He said his experience at the Ballybofey venue last Friday with his wife and young family a huge shock for them.
"Having visited Finn Park on numerous occasions over the last 15 years I have had nothing but pleasant experiences of Finn Harps supporters and the Donegal public in general," said the soccer fan.
"However last Friday night the abusive and foul language directed at Longford Town and its supporters was an absolute disgrace.
"This was continued throughout the match by a small section of thugs masquerading as Finn Harps supporters."
Mr Connolly said he was even more shocked that these fans were not removed from the ground.
He went on: "I am not surprised in the slightest at the poor level of support Finn Harps currently have and which sees the club almost on the point of extinction, when one experiences the atmosphere that we as visiting supporters were subjected to on Friday night.
"Sadly, despite the fact that I enjoyed all my previous visits to Finn Park I will not be returning with my family as a result of the experience."
* What do you think? Send your comments to info@donegaldaily.com
Tags: