A huge gorse fire across Inishowen may have been sparked by a charity tractor drive.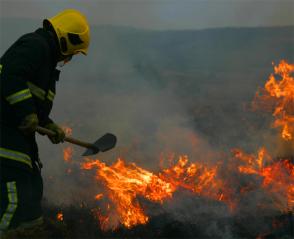 More than 20 firefighters had to battle for three hours to bring the fire under control as it swept across Drumfries on the Inishowen Peninsula.
The blaze, which started around noon, destroyed acres of gorse in its path between Buncrana and Carndonagh.
Fire brigades from Buncrana and Carndonagh were dispatched to the scene to stop the fire from spreading to nearby houses.
Fire chiefs are now investigating the possibility that a spark from a steam-powered tractor, which was on a charity drive from Mizen to Malin Head, may have caused the blaze.
A source said "That is one possibility but that is something that will have to be verified by the Gardai during their investigation.
"Three units of the fire service did respond to the call and thankfully they prevented the blaze spreading to some forestry which could have been a real disaster."
There have been other smaller gorse fires in both Stranorlar and Dungloe but there has been no reports of extensive damage.
However a spokesman for the Donegal Fire Service appealed for people to be vigilant considering the current dry spell and not to dispose of cigarettes or light fires in the open.
Ends
Tags: