The gang behind a series of ram-raids in Letterkenny claimed they were only out for a jog when nabbed by Gardai, donegaldaily.com can reveal.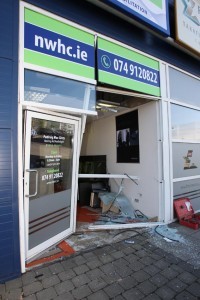 Thousands of euro of damage was caused to four shops and two cars were burned out as the men went on a crime spree in the early hours of yesterday morning.
As well as breaking into the Wine Buff store, they also rammed the North West Hearing Clinic, Riverside Shopping Mall and Thomas Keye's petrol station at Ballyraine.
The men were eventually arrested in the Glencar are of the town when they tried to steal another car to make a getaway.
An eye-witness to the men's arrest told donegaldaily.com that he contacted the Gardai when he saw them trying to steal a car.
The man, who asked not to be named, helped direct Gardai to where the men had hidden after being disturbed.
"I never let on to them that I seen them and I stood on the road and waited for the guards to come up.
"I called the station but couldn't speak as I was on one side of the wall and they were on the other and I didnt want them to know that they were caught red-handed.
"A Garda car came up the road and I directed/waived them into a house across the road, where they were in hiding.
"I got the squad car to stop at the entrance to block their escape and all the men who had been in hiding thinking they were safe, ran towards the hedges and trees.
"One of them slightly injured himself as he must have banged into a tree or fell over in the commotion. Myself and the other guard ran to block them getting through onto the road," revealed the man.
The man also told how the suspects acted very casually when apprehended by Gardai.
"They didn't seem too fazed by it all and claimed that they were only out for a jog," he revealed.
A car which had been taken from a driveway in the Glencar area was taken away on a pick-up lorry by Gardai for examination.
Ends
Tags: