BREAKING NEWS: THESE are the dramatic scenes as people drive through smoke to get away from serious gorse fires which have broken out across West Donegal this evening.
At least four units of the fire servic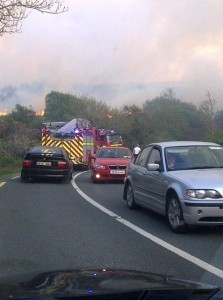 e have rushed to the scene of the blaze between Doochary and Loughanure.
The main issue for many people is that huge plumes of smoke are covering the area and making driving conditions difficult.
People in the area have been asked to drive with extreme caution as the fire crews try to bring the fire under control.
Our pictures taken just a short time ago show firemen trying to put out the fires which are spreading rapidly because of the dry conditions.
They also show how close motorists are to the blaze.
So far there have been no reports of damage to buildings as firemen battle to curb the fire.
The blaze is the latest during the current dry spell.
In recent days there have been other serious gorse fires in Inishowen, Stranorlar and Dungloe.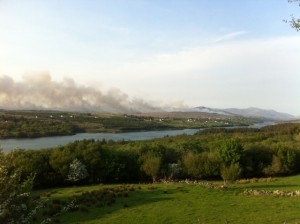 One blaze is believed to have started when a spark from a tractor ignited a blaze which spread rapidly.
The fire service are asking people to be extra vigilant when disposing of cigarettes and never to light fires outside.
PICTURES BY EOIN MCGARVEY
Ends
Tags: