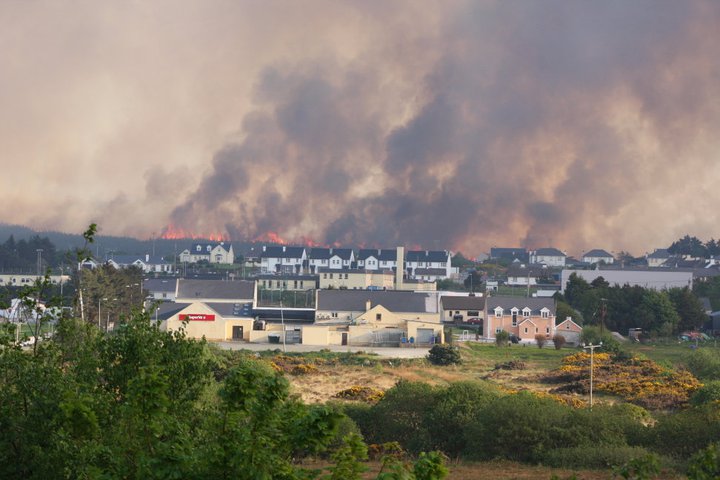 AIR Corps choppers saved homes in Dungloe from ruin as the Defence Forces dropped 100,000 litres of water on fires in the county.
Local people say the raging inferno would have destroyed homes on the Quay Road in the town had the Air Corps not intervened.
Said Paul Wallace: "The community spirit shown in Dungloe was commendable.
"Hats off to the hard working staff of the Donegal County Fire Brigade and acting fire chief officer Bob McMeniman for a very difficult job well done.
"The presence of the helicopters with the water drops saved householders on the quay road in Dungloe, there is no mistake about it."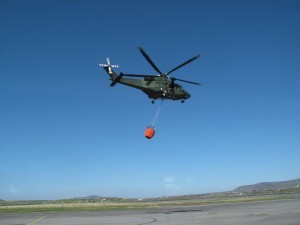 More than 100 troops with specialist suits and three Air Corps helicopters have continued with efforts to tackle wild fires in the north west.
The Defence Forces said operations continue to focus on the Dungloe area where "significant progress" was made on overnight.
They have been backed up by staff at Carrickfin airport.
Three helicopters, two equipped with buckets able to carry 1,200 litres of water at a time, are being deployed to the scene to help firefighters on the ground.
Bobby McMenamin, acting Donegal chief fire officer, said fire crews were making progress.
"We're on top of it at this moment in time now," he said.
However he says he knows now for a fact that many of the fires are being started deliberately.
"We had one situation where we knew an area was clear and then two fires started. They could only have started deliberately," he said.
The Defence Forces were drafted in over the weekend as flames ripped through gorse and forest in the Doochary, Leitir and Dungloe areas.
A Defence Forces spokesman said more than 100,000 litres of water were dropped on affected areas from helicopters on Sunday.
At least seven houses were evacuated in Donegal, with one property in the Ballyshannon area in the south of the county suffering damage.
There are also gorse fires this afternoon in Fanad, Inishowen and near Termon.
You can follow all our weekend coverage of the worst gorse fires in living memory on other earlier posts and in our archive.
Tags: