Army helicopters have now dropped an estimated 250,000 litres of water on gorse fires around County Donegal in the past two days.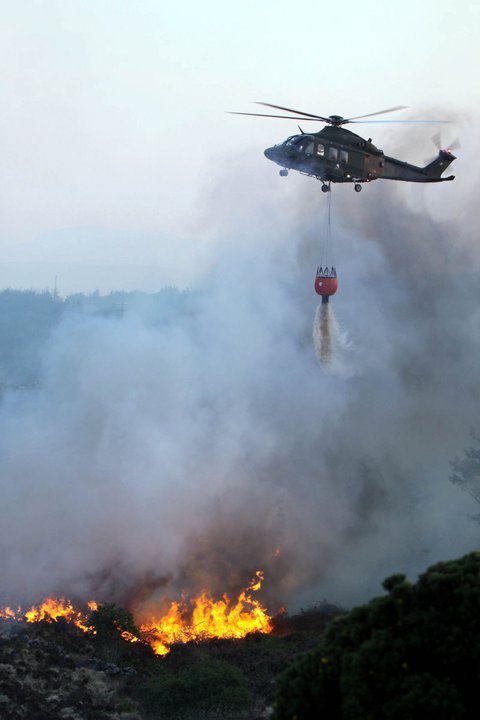 The three army helicopters, two of which were fitted with Bambi buckets to scoop water from lakes, were deployed to several of the most serious fires around the county.
Each bucket can collect around 1,200 litres of water with each scoop.
The choppers are believed to have been ordered to base at Carrickfin Airport last night to review the situation this morning.
It is understood the majority of blazes are now under control.
However a spokesman for the fire service warned that current dry conditions mean that another fire can start at any minute and at any given location.
"Unless we have a serious downpour of rain shortly, then we are under constant threat because of the condition of the ground.
"If we have some fresh growth then that will not burn. But what we have is dry dead gorse which literally goes up like a match.
"All it will take at the moment is another spark and we are off again. It's as simple and as dangerous as that," he said.
As well as helicopter drops, more than 100 soldiers are fighting fires backed up by thousands of locals using spades to put out the fires.
Many are also using slurry tankers to transport water in a bid to reach inaccessible locations from Lettermacaward and Dungloe.
Ends
Tags: