BREAKING SPORTS NEWS: Finn Harps have announced a new 'dream team' management combination after appointing former Derry City stars Peter Hutton and Felix Healy as club bosses.
Healy returns to the club he led to the First Division title in 2004 as Director of Football, while Hutton arrives at Finn Park as Manager.
In addition, 'A' Team Manager Paddy Foy will combine his current role by becoming Assistant Manager to Peter Hutton.
Harps Chairman Joey O'Leary said he is delighted to welcome the pair to Harps.
"I'm sure that news of Felix and Peter's appointments as our new Management Team will receive a very positive reaction from our Supporters.
"Both men are big names in Irish Football who will bring with a wealth of experience and knowledge to Finn Harps FC ".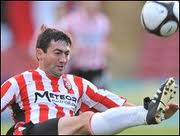 Healy said he is looking forward to realising the potential of the Donegal side.
"To say I am relishing this new challenge would be an understatement. I have always felt that Finn Harps is a Club that has huge potential and we saw that with the large attendances at Finn Park during the run in to our First Division title success in 2004.
"Myself and Peter are now looking forward to working with the first team squad and our first game against Wexford Youths on Friday night."
Peter Hutton, who has managed Derry City on a temporary basis on two occasions, is also looking forward to the challenge ahead.
"As everyone knows, I have a special family connection with Finn Harps FC so it's great for me to be starting my management career at Finn Park.
"Myself and Felix are aware there is a lot of work to be done but with the support of both the playing staff and the supporters, I think we can achieve great things."
Felix Healy is a former player and manager with the club. He played the first seven games for Harps during the 1978/79 season, including both legs of the UEFA Cup 1st Round fixture against English side Everton, before leaving Finn Park to sign for Port Vale.
He returned to Finn Park in 2004 after Noel King's resignation as Manager. He led Harps to the First Division title in his first season in charge, recording a record haul of points in the process.
Although he never played with the club, Peter Hutton has strong links to Finn Harps. His father, Peter senior, played 228 games for the club during it's first decade in the League of Ireland, and was a member of the 1974 FAI Cup winning team.
Finn Harps Chairman, Joey O'Leary has asked the public to back the club's new Management Team beginning with the home game against Wexford Youths at Finn Park on Friday.
"The board is determined to re-energise the club as a whole. The potential of our squad must be realised and the loyal dedication of our fans and supporters is vital to restore belief and help us to achieve the success we deserve.
"I am asking everyone to come along on Friday night and be part of building a new future for the club," said the Harps Chairman.
Ends
Tags: