7PM UPDATE: EMERGENCY teams have now been deployed after two serious gorse fires broke out in both Nairn and Muckish within the past couple of hours.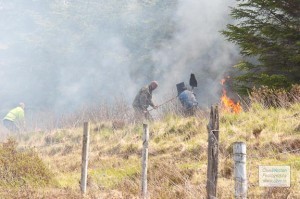 Today has proved another dramatic day for the army, the fire service and locals across the county as high winds whipped up fresh fires despite hopes that they had been contained.
Flames have come within yards of many houses in the Dungloe and Nairn are with many still uder threat.
Although a raging fire was brought under control in Ardara yesterday, locals were up against it again today as further fires broke out in the region.
More than 50 fire officers, four fire brigades and many standby-officers battled all afternoon to bring the fire under control in and around Dungloe.
They were backed up by three army helicopters – two of which were dropping water on the blaze with Bambi buckets containing up to 1,200 at a time.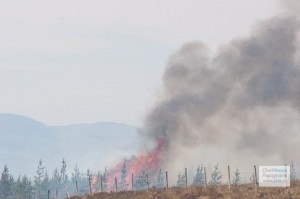 A new fire has now also spread to the seaside area of Nairn and has already burned hundreds of acres of hillside there.
Local woman Siobhan McNeilas has already been moved twice from accommodation as thick smoke covers the area blown about by contrasting winds.
"It's frightening. To see the fires burn up so much ground so quickly is something I will never forget.
"We have already moved form our own house to a neighbour's and now there is talk we may have to move again because the smoke is covering the place," she said.
The fire on Muckish, which has been raging since early morning, continues to burn strongly and still poses a threat to nearby Glenveagh National Park.
At one stage earlier today dozens of homes in Falcarragh had to be evacuated after changing winds blew huge plumes of thick smoke into the direction of the town.
Ends