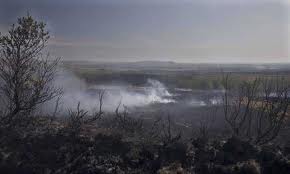 IT HAS started to rain in parts of south and west Donegal this afternoon – hopefully signalling the end of six days of gorse fire hell for many people in the county.
A light mizzle in Glenties in the past few hours is slowly extending northwards with some light rain over Mount Errigal.
Forecasters are predicting widespread heavy rainfall later.
This is expected to continue for up to four days with rain and showers forecast.
The rainfall comes after weathermen said it recorded the warmest April in the county in a century.
Last month the temperature on average was 3.1 degrees above normal.
And the bad news for farmers is that the dry weather has caused soil moisture deficits similar to those experienced in a hot summer.
Pat Clarke from Met Eireann said today: "The heavy rain due in the coming days will help to dampen the gorse fires."
Fire brigade operations are continuing in several parts of Donegal this evening.
There is a forest fire in Coolcholly in Ballyshannon and a gorse fire at Leenamkeel in Clonmany. Another fire is also being dealt with in Buncranna.
Two fire crews and 40 Defence Forces personnel are assisting an Air Corps helicopter in tackling a fire on Muckish.
In Glenties two Air Corps choppers, fire crews and local people are dowsing a blaze in the glen area.
Another two crews are working near Dungloe.
Pictured below is a shot taken at 5am this morning of the Fanad fires; taken by Gerard O'Kane from the shore at Buncrana.