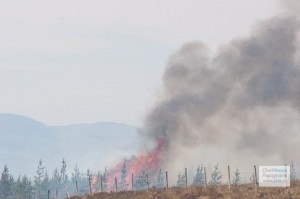 MORE than half of the forest lost in recent fires in the country were in Co Donegal, causing €2.5M worth of damage in this county, it was announced today.
Recent forest fires across Coillte's estate have destroyed 985 hectares (2,400 acres) of forests, with an estimated cost of approx €5 million.
And Coillte revealed that 550 hectares – more than half of the area wiped – was in Co Donegal.
 
The amount of forest destroyed in recent days is four times the national annual average over the last 10 years and 200 hectares more than  the total area burnt on Coillte property in 2010, itself the worst year on record. The costs include fire fighting, replacement of the trees lost and timber revenues foregone.
 
Commenting on the losses John O'Sullivan, Regional Director Coillte Forest said: "Forest fires put the lives of the people who have to fight them at risk, as well as causing major damage to property, wild life and habitats. These forest fires are mainly as a result of careless and dangerous burning of vegetation in close proximity to forests.
 
"We work closely with all the emergency services and we thank them for their support. The Gardai are treating these incidents very seriously and will be looking to pursue the people who started these fires. We call on anyone who has any information on recent fires to contact us or their local Garda station.
 
"We would like to extend our thanks to all those who have been working with us – the Defence Forces, Gardai, Fire Services along with our neighbours, forestry contractors and Coillte employees," he said.
 
Under the Wildlife Act it is illegal to set fires in growing vegetation from 1st March to 31st August. Coillte appeals to anyone doing so to stop and for everyone to be vigilant when they are out, near, or in its forests.
 
Over the last few days fire crews, foresters and volunteers from the local communities have been fighting a number of dangerous forest fires in counties  Donegal, Galway, Mayo, Sligo, Roscommon, Cavan, Monaghan, Cork and Waterford.
In summary provisional estimates for hectares of Coillte forest lost by county are as follows.
 
CountyArea (Ha)
Donegal 550
Galway/ Mayo 250
Sligo 40
Roscommon 20
Cavan 25
Monaghan 80
Cork / Waterford 20
Total estimate to date 985