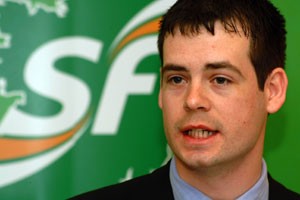 THE coalition Government is set to spend up to €200,000 in a legal action against Pearse Doherty – which he has already won, donegaldaily.com can reveal.
The Fine Gael/Labour administration is continuing with a case taken by the Fianna Fail government when the Donegal South West TD took a High Court action to force last year's by-election which Doherty won by a landslide.
Mr Doherty has welcomed the commitment by Fine Gael Minister for the Environment Phil Hogan to introduce legislation to guarantee that all by-elections would be held within six months.
Deputy Doherty whose successful court challenge last year forced the previous Fianna Fáil Government to hold the long-awaited bye-election in Donegal South West called on the Government, in light of these new commitments to call off the "farcical" Supreme Court appeal on that case.
Speaking from Leinster House Deputy Doherty said: "I welcome Minister Phil Hogan's commitment to introduce legislation guaranteeing that all bye-elections are held within six months of the vacancy arising and I agree with his statements regarding "the farcical situation where political parties are forced to take High Court challenges to ensure bye-elections are held".
"That fact that I had to haul the then Fianna Fáil Government kicking and screaming to the courts in order to give the people a chance to exercise their right to vote was indeed farcical, but what is equally farcical is the fact that this new Fine Gael Government is further wasting taxpayers' money by appealing this decision to the Supreme Court.
"I would ask the Minister and the Government, in light of these new commitments to do the right thing and withdraw this appeal. It is a waste of money that in these times we simply can not afford."
Now we can reveal the Supreme Court case will cost taxpayers at least €200,000 at a time when the country is broke.
A civil service source admitted: "The government can't talk about saving money one minute and then wasting it like this the next."