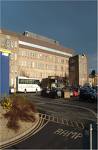 THE maternity unit at Letterkenny General Hospital is at risk, a midwives union claimed today.
A government bill, which aims to enhance the protection of the public in its dealings with nurses and midwives, will have a devastating effect on community midwifery services if left unamended, the Community Midwives' Association (CMA) said.
According to the association's president, Bridget Sheeran, the proposed legislation – the Nurses and Midwives Bill 2010 – 'is disabling, not enabling midwives to benefit women'.
Ms Sheeran told irishhealth.com that one of the major issues surrounding the bill relates to section 40, which makes it unlawful for midwives to practice without professional indemnity.
Like obstetricians, self-employed midwives in Ireland cannot access insurance on the private market. Their sole indemnity is via a state scheme that is tied to a HSE home birth contract that restricts midwives from exercising clinical judgement, may obstruct them in fulfilling their duty of care and limits women's autonomy. The Bill currently locks in this insurance, 'which is discretionary, unpredictable and may be withdrawn without notice'.
"Section 40, as it stands, effectively criminalises private practice. And in wiping out midwives' abilities to offer services in the community, the Bill cuts off women's access to those services. The current insurance arrangements are a barrier to the provision of safe care – midwives are the specialists in normal birth.
"What of the woman who goes into labour remote from a hospital maternity unit? She cannot employ a self-employed midwife who is uninsured, nor can she arrange for a GP, who is also uninsured to care for her? She cannot call a paramedic, with maybe five formal days training in childbirth and none in neonatal resuscitation. Whom, then, should she call?" Ms Sheeran asked.
She claimed that this Bill comes at a time when the 'looming shortage' of NCHDs (non-consultant hospital doctors) 'could close many maternity units next July'.
"Up to 12 or even 13 maternity units could conceivably close on July 11. Few believe that the situation is retrievable. The hospitals are down up to 500 NCHDs and these vacancies are expected to hit small and medium sized hospitals disproportionately," she insisted.
Ms Sheeran said that 'endangered' maternity units include Portiuncula Hospital in Galway, Cavan General Hospital, Wexford General Hospital and our own service at Letterkenny General Hospital.
She insisted that the fact that this legislation 'blocks off the development of community midwifery services even as 12 or 13 maternity units are at grave risk of closure' is a major issue.
"If this defective Bill goes through unamended, self-employed midwives will soon be unable to offer any services at all in the community outside the diktat of the HSE. Even breastfeeding advice will be prohibited, never mind delivering babies," she added.