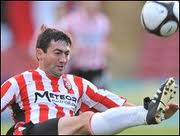 Peter Hutton will be in the manager's seat at Finn Park for the first time tonight as Harps seek their opening win of the season against Wexford Youths.
With a new face in the dugout, Harps fans will be hoping to see their side record their first victory of the season against a Wexford side which has had an equally as poor a start as their hosts this weekend.
by Joe Doherty
The return of Felix Healy to the club as Director of Football will bring back memories of the First Division title season of 2004 for the Harps faithful.
Then, like now, Healy arrived at the club after the season had started and saw his Harps team end the season as First Division champions with a record haul of points. However, the task at hand at the moment is probably more difficult for the club than it was seven years ago.
Harps have failed to win any of their opening eight league games, and have just three points picked up in a trio of home draws against Limerick, Monaghan and Salthill Devon.
Last weekend they were unlucky to lose 1-0 at Tolka Park to a Shelbourne team that many have tipped to gain promotion this season with Harps striker, Kevin McHugh, in temporary charge for that trip to Dublin.
"We dominated the game, particularly in the first half and were very unlucky to come away with nothing," he said.
"We had almost all of the ball and caused Shelbourne problems from the start. I spoke to their manager Alan Mathews afterwards and he admitted that he was very relieved to come out with the three points.
"We decided the change a few things during the week and went with a 4-1-4-1 formation and I couldn't have asked for any more from any player.
Tommy Bonner played in front of the back four and was excellent, while Garbhan Friel did very well on his debut.
"I asked Garbhan before the game could he give me a good 45 minutes, but at half-time he told me was fine to continue. Although he eventually tired a bit, which is totally understandable considering he hasn't played in two months after a serious injury, again I couldn't ask any more."
Harps were unlucky to not to have been awarded a penalty, and also had what looked like a perfectly good goal ruled out by the visiting Welsh referee.
"I thought it was a penalty and it's the sort of one if you were playing at home you would certainly have got," McHugh continued. "And as for the goal, the Shels goalkeeper Dean Delany collided with his own centre-half and it was chalked off. It's very frustrating and all in all I felt the referee had a fine game, but those are the sort of decisions that seem to be going against us all season and if one had even gone our way, it would have been a massive lift," he added.
After making his debut last week, Garbhan Friel will again be included in the squad for Friday's game. Kevin McHugh, who was a doubt ahead of last weeks game against Shelbourne played a bit part in that game, and looks like he should be available. Paddy McLaughlin (hamstring) and Conor O'Grady (ankle) remain doubts.
Ends
Tags: