It's very rare that you get to see a Symphony Orchestra – the largest and most prestigious of the national orchestras – in a small auditorium, but An Grianan Theatre have pulled off that coup to being them to Letterkenny tonight, Friday.
The RTÉ National Symphony Orchestra, with Finghin Collins directing from the keyboard, continues its critically acclaimed Mozart Piano Concerti cycle in Letterkenny with a concert in An Grianán Theatre at 8pm.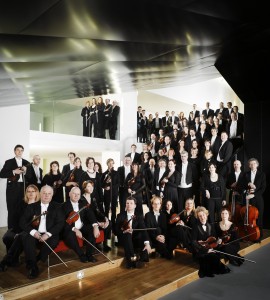 The visit to Letterkenny will include three concerti being performed for the first and only time as part of the Mozart cycle and a range of events in advance of the concert for players from the Donegal Youth Orchestra and the Donegal Chamber Orchestra.
The visit has been organised by An Grianán Theatre in association with the RTÉ National Symphony Orchestra, Donegal County Council Cultural Services and the VEC Music Education Partnership.
Patricia McBride, Director of An Grianán Theatre, spoke of how she was delighted to bring Ireland's premier orchestra back to Donegal.
She told us: "It's an honour to host Ireland's national symphony orchestra and it will be very special to see this highly regarded ensemble in our intimate auditorium.
"The skill of the RTÉ National Symphony Orchestra, the musical programme and our wonderful acoustics will make it an exceptional evening.
"The workshops and other events are very important too, to show young Donegal musicians that there are opportunities out there for them as professional musicians."
As the first RTÉ NSO Associate Artist, Finghin Collins has taken on the challenge of performing the complete cycle of twenty-three Mozart piano concerti with the RTÉ NSO, the majority of them directed from the keyboard.
Performances to date have taken place in Dublin, Galway, Limerick, Cork and Waterford.
The Letterkenny performance will see Finghin and the orchestra cross the midway point, bringing the total number performed this season to thirteen.
Looking ahead to the events in Letterkenny, Finghin Collins said: "Audiences in Letterkenny will hear one of the most attractive programmes in the entire Mozart Piano Concerti cycle.
"We start with a relatively unknown early concerto, No. 13 in C major, a work with a surprisingly muscular first movement and with perhaps a foretaste of the 'Jupiter' Symphony.
"Then we move to the charming B flat major Concerto No. 18 which features a heart-breaking slow movement in G minor: Mozart at his most brooding.
"In the second half we have the celebrated A major, No. 23, one of the most popular works in Mozart's entire output, one jumping from tragedy to euphoria in seconds and full of hummable melodies.
"Following our recent tour of three other Mozart piano concerti to Galway, Limerick, Cork and Waterford in March, I'm delighted that we can explore numbers 13, 18 and 23 in the North West and I am thrilled that we have been able to make the Mozart Piano Concerti cycle a national project."
For tickets click here www.angrianan.com or call 074 91 20777.