Donegal Band Citizen Skin have been pipped at the post to win an international online song contest.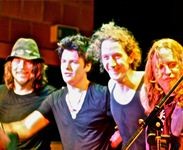 The band, whose members come from Ardara, are based in Germany.
Following the decision of Bob Geldof and a panel of judges in the semi-final, Citizen Skin made it into the final of the international YouBloom song contest.
The band were in the lead for a long time only to come a very commendable second with their song 'Misery'.
Mary Kennedy, proud mum of band member John Kennedy, said she wanted to thank the people of Ardara and Donegal for voting for the band.
"The lads did really well and almost won it but came a very close second. They received great support from home and especially in Ardara and they want to thank everyone who voted for them," said Mary.
Ends
Tags: