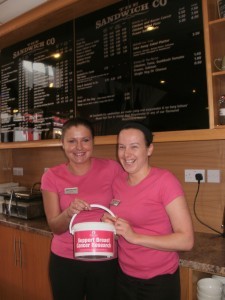 ARE you involved in charity work and need help?
Well donegaldaily.com is here to help. If you are having an event and want to publicise it, just send details with pictures to info@donegaldaily.com and we'll include it on Donegal's fastest growing website.
So whether you're having your legs shaved, or having a bath in a tin of beans – all to raise money for good causes – then let us know.
Charities are an important part of life here in the county and we want to give our support.
Pictured are just two of the ordinary people who help to make such a big difference.
Alex Rucka and Lynne Brolly work at The Sandwich Company on Main Street in Letterkenny.
And on Friday the trendy cafe was giving away free tea and coffee for customers – in return for a donation to Breast Cancer charities. The girls helped to raise €275 for the charity.
They added to that by collecting more money over the weekend.
Well done all!