ROCKHILL HOUSE in Letterkenny could become a centre for renewable energy, donegaldaily has learned.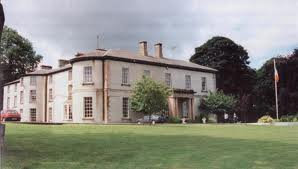 The idea is one of a number now being considered by Donegal County Council for the abandoned army barracks on the outskirts of the town.
County Manager Seamus Neely told a meeting of Letterkenny Town Council last night that the authority is still finalising plans to take over the massive estate.
It is believed the Government could now only be weeks away from handing the historic house and its grounds to Donegal County Council.
It is expected both the Lifford Army Barracks and Rockhill Barracks will be acquired shortly.
Donegaldaily understands a number of plans are being considered for Rockhill and its surrounding grounds.
They include:
*A centre for renewable energy which will include the growing of crops for bio-fuels such as willow
*A storage centre for many of the county's records and archives
*An arts and crafts village
*A centre for the FCA in the county to carry on the military links with the famous house
When contacted Cllr Dessie Larkin, who has been at the forefront of finding a new plan for Rockhill House, said he would prefer not to comment on proposals for its future use.
However he paid tribute to former Tanaiste Mary Coughlan for not putting the house and its grounds on the open market.
"I have no reason to say this about former Tanaiste Mary Coughlan but Rockhill House would have been sold on the open market but for her.
"You could not put a price on it but she listened to us when we lobbied her to ensure that it would be used for the people of Letterkenny and Donegal," he said.
Cllr Larkin said he was satisfied that the County Manager is close to making announcement on the future of the house.
"When it was suggested recently that the deal was done, it was premature because it still has not been done.
"There are certain issues which we are now closer to resolving and I would be confident the Manager will make an announcement on the future of this fantastic asset shortly," he said.
Ends
Tags: