An Inishowen family have been hit with a third drowning tragedy in just three years following the death of a 37 year old fisherman off the coast of Co Mayo.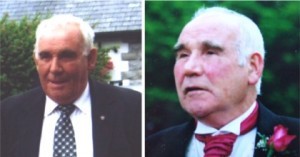 The victim, Cathal McDaid, is the nephew of two elderly brothers who drowned off Lough Foyle in another fishing tragedy in March 2008.
Cathal was washed overboard from the fishing vessel the Mark Amy II off Achill Island this morning.
Mr McDaid, a single man from St.Boden's Terrace, Culdaff was recovered from the sea just after 10am and rushed to Sligo General Hospital by the Air Corps rescue helicopter based at Sligo.
They were also assisted by the Malin Head Coast Guard service.
It is believed Mr McDaid was dead when he was recovered and was officially pronounced dead on arrival at Sligo General Hospital.
Three years ago the dead man's uncles Danny, 70, and Frances, 68, McDaid from Culkeeny, Malin, drowned in Lough Foyle when their boat the Strath Marie capsized while they were lobster fishing.
They were recovered and rushed to Altnagelvin Hospital in Derry but did not survive.
The brother's death sparked an investigation by Derry Coroner's Court after the men's relatives claimed they were hit by another vessel.
Coroner Brian Sherrard told an inquest into the men's deaths that he agreed to a request from the victims' solicitors to carry out a full investigation
Last July the Marine and Casualty Investigation Board found the brothers drowned when their boat encountered difficulties that were "sudden and without warning."
However the MCIB rejected the families' claims that a speed boat or cargo ship may have been involved in the drowning with the brothers' 9 metre vessel.
The sudden death of the brothers' nephew Cathal has shocked the local community on the Inishowen Peninsula.
His distraught parents rushed to Sligo General Hospital from their home in Culdaff yesterday (TUES).
Local county councillor Bernard McGuinness said the village of Culdaff is in disbelief at the latest tragedy to strike the McDaid family.
"People are just going around in a daze and can't believe that this family has been struck by another tragedy.
"Cathal is the same age as my own son and he was a very nice lad. He spent some time in America but he was very well-known and liked in the town.
"We haven't got the full details as to what exactly happened yet but people are just in shock," he said.
Ends