Manorcunningham man Fergus Doherty is taking his first steps on the road to "Nashville" as he launches his debut C.D. on Friday next, May 20th in Arena7, Letterkenny.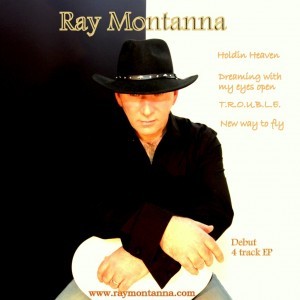 Fergus, or as he's better known on stage "Ray Montanna", is a life long American country music fan, is both excited and nervous as he dips his toe in the music game as a fully fledged recording artist.
Born in the small village on the outskirts of Letterkenny, Ray hails from a family who seem destined to be born to entertain with his Dad Sean a well renowned singer and musician, with his mum Bridie an accomplished Irish dancing teacher.
"Although I was involved in music in the late nineties it has only been in the last 12 months that really got back into the scene and started performing and gigging on the road again.
"With great help and advice from those close to me and others in the music business, who among other things have given me a new persona in the guise of Ray Montanna. It's a little more "ye, haw" than "woo, hoo", but its fun and I like it," he said.
Ray Montanna who is married to Andrea Kelly, a native of Co Cavan with whom he has 2 beautiful kids Megan (7) and Sean (2) launches his 4 track EP in Arena7 where he is resident every Saturday night and hopes its another step on the road to "stardom".
Ray said "Things have been going really well for me this last while and the support I have got from everyone has been unbelievable. The excellent Gary Gamble has agreed to guest with me on the night with a few more support acts waiting to confirm, so its all systems go.
"I love performing so I hope the C.D. will help raise my profile and open up doors for me as I bid to keep doing what I do best and enjoy most, performing"
Ray, who now resides in County Cavan, says he can't wait to get performing his 4 CD tracks and many more favourites on Friday May 20th with doors opening at 9pm show starting at 10pm sharp.
Admission is €10 with a great show guaranteed. For more details contact Arena7 on 074 9128853, www.raymontanna.com or find Ray Montanna on facebook.
Ends