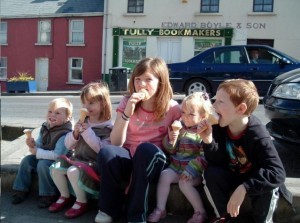 IT'S a picture of happiness as Madeleine McCann shares an ice-cream with her brothers and cousins in Co Donegal four years ago – just weeks later she went missing from a holiday complex in Portugal.
And today brave mum Kate McCann made a heart-breaking new appeal in the hunt for her daughter on the missing girl's eighth birthday.
Mrs McCann, 43, and her husband Gerry launched a new phase of their four-year search for their daughter, and are already receiving fresh information prompted by Mrs McCann's emotional account of the disappearance in her new book which goes on sale today.
And here in Donegal, in St Johnston where Maddie's grandparents are from, people will hope that this latest appeal will finally unravel a riddle which has baffled the world.
Kate's book, Madeleine, goes on sale today and the McCanns hope it will raise €1.2 million to provide continued funding for their private investigation.
The residents of Dungloe will also remember Maddie today – four years ago they stood alongside Gerry and Kate McCann and their three children at Easter Mass.
The McCann family had been visiting the area on holiday in April 2007 before stopping off at their family-owned pub in St Johnston.
More than 40 family members had enjoyed the trip, up the coast from Dungloe and through Gaoth Dobhair.
Today Kate and Gerry McCann wrote an open letter to British PM David Cameron begging him to force the Portugese authorities to release all their legal papers to them.
In the letter they describe Mr Cameron as a father who recognised the importance of children to people's lives.
The couple said they had "tried in vain" to secure a formal inquiry and added that it was "not right that a young, vulnerable British citizen has essentially been given up on".
The McCanns told Cameron that a review could be fruitful as "the benefits of pooling together different bits of evidence can be enormous".
A spokesman for Mr Cameron said he wanted to make sure the Government did "all it can to help them" and said finding Madeleine was the Prime Minister's focus on the issue.