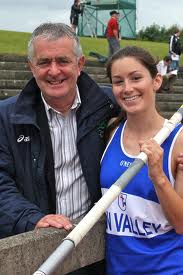 FINN Valley AC's Tori Pena continues to improve the Irish pole vault record and indeed moves closer to world championship qualification 4.40m as she cleared 4.30 and came so close to the magic Q mark for Daegu world champs in Chula Vista Invitational, San Diego on Thursday.
Jumping in the USA tf/open finals opened at 4m went clear again at 4.15 then cleared 4.30 narrowly failing at 4.40m . The event was won by Becky Holiday at 4.50.
She will return to Europe next month for European Cup in Turkey.