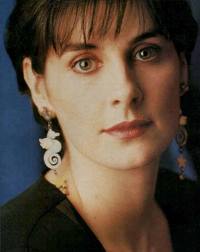 DONEGAL'S greatest ever singer Enya is set for a sensational return – with a new album and live concerts.
The Gaoth Dobhair woman – real name Eithne Padraigín Ní Bhraonáin – certainly doesn't need the money after having her fortune estimated at an incredible €94M!
But close friend and manager Nicky Ryan has revealed that the star is already working on major plans for an eighth album.
And he hit out at suggestions that she is some sort of recluse, as portrayed in some newspapers.
She's just a private person, he says, who doesn't like the publicity-craving nonsense some celebrities go for.
Enya, who will be 50 this Tuesday, lives in Maderley Castle in the posh Killiney area of south Dublin.
But she is expected to celebrate her birthday quielty with her family – the famous Brennans of Clannad fame – in Crolly.
The singer, whose incredible hits include the haunting 'Orinoco Flow', will work on her new album at the Abbey Road studios, probably with a full orchestra and choir.
Said manager Nicky: "We have considered touring before but we didn't make the time. Working with musicians at Abbey Road is with a view to bringing people on the road.
"There would be a classical feel to the performances with Enya playing beautiful venues in front of an orchestra.
"Just think how amazing Orinoco Flows would sound when played live."
One plan is to play in New York's Metropolitan Theatre – with the show being broadcast in HD in cinemas around the world.
Mr Ryan also hit out at the recluse claims.
"She's just a normal person…she has normal interests. Take my word for it," he added.
The Donegal singer has sold an incredible 75 Million albums worldwide.
Now it seems we are going to get yet another masterpiece.