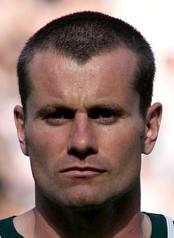 SHAY Given may not have played in today's showpiece FA Cup Final at Wembley today, but the big Lifford keeper certainly joined in the celebrations as Man City beat Stoke City 1-0.
There was disappointment locally for the Delap family – Rory played for Stoke before being substituted 10 minutes from time.
When the final whistle went Shay was one of the first Man City subs onto the pitch to join the celebrations.
And when it came to climbing the famous Wembley steps, the Donegal man insisted the rest of the team go first – before he walked up with Man City manager Roberto Mancini.
There is no doubt that Given wants first team football and may join Liverpool in the summer transfer window.
But for today at least he was a happy and proud member of the Manchester City squad.
It was the club's first trophy in 35 years – thanks to Yaya Toure's goal in the 74th minute.
City manager Mancini said: "I'm happy for the supporters. For a long time they didn't win. My feeling is good but it is more important that their feeling is good."
City's Patrick Veira added: "It means a lot to the players but even more to the fans. They have been waiting a long time for this. It is fantastic. There has been a lot of pressure on this team. It's a really fantastic season for us."
In other football news Man Utd won the league.