RTE pundits Colm O'Rourke and Joe Brolly may have called it 'puke football' and 'embarrassing' but Donegal picked up their first Ulster Championship win for four years at MacCumhaill Park in Ballybofey this afternoon.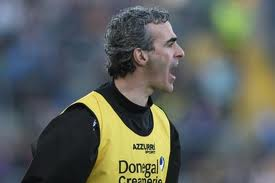 Just over 5,000 fans braved the elements to watch what turned out to be a dour affair between two sides who were more concerned about not losing the game than winning it.
With so much expected from Donegal after winning the National League Division Two title at Croke Park a couple a few weeks ago, nothing but a polished display would keep Donegal's critics from beating down their door.
That didn't emerge but Donegal were always in control however with solid performances from the likes of Ryan Bradley, Mark McHugh and Adrian Hanlon.
Antrim never looked like a team that had what it took to knock Donegal out in the preliminary round of the championship.
And if their manager 'Baker' Bradley thinks Donegal play 'puke football' as he claimed earlier this week, it's difficult to know how to describe his own team.
On the pitch it was a difficult day for captain Michael Murphy who is getting used to being marshalled by an extra man.
That said it's difficult to see why the Glenswilly man was constantly forced to drop deep into midfield and sacrifice Donegal's firing power up front.
Donegal went in leading 6-3 at half-time.
Those who didn't dig deep into their pockets and pay a recession-numbing €27 for a ticket in the stand had the 'pleasure' of listening to O'Rourke and Brolly at half-time.
Both men castigated the game and dished out special treatment to Donegal who they claimed were embarrassing.
Brolly said it even went beyond 'puke football' and described the first half display as something out of an exorcism.
Despite hitting a number of wides in the second half, Jim McGuinness' side took control thereafter but should really have ran out more comfortable winners.
Mark McHugh put a more respectable look on the scoreline when he combined with St.Eunan's Kevin Rafferty in the closing minutes to score a well-taken goal.
The game finished 1-10 to 0-7 and Antrim could have no complaints after failing to turn up on the day.
For Jim McGuinness and his emerging side, he still has plenty of food for thought.
Should he continue to play a defensive brand of football and hope his team's breaking-style of play can net them enough scores to overcome more accomplished rivals.
Or should he take the ultimate gamble and allow his young team to play the open brand of football many feel they are capable of.
The answer may rest somewhere in between both. The reality is that Donegal have something to build on and it's not too many times in recent years Donegal fans can say that.
Ends
Tags: