With a client list from Donegal to Dublin, Letterkenny-based artist Fiona Higgins has enjoyed huge success over the last few years.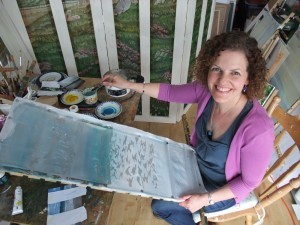 The artist, who is known for her batik painting on silk, is about to launch her latest collection which will also include oil paintings inspired by the scenery of the North West.
The exhibition, "Dappled Light", will be officially opened by Noelle McAlinden, Creative Arts Advisor, ilex in the Cascade Gallery, Waterside Theatre and Arts Centre, Derry-Londonderry on Thursday 26th May at 6.00pm.
A graduate in Fine Art Painting from the Dublin Institute of Technology, Fiona went on to gain a teacher's diploma at the College of Marketing and Design. She then spent ten years working as a teacher at St. Mary's Secondary School, Limavady, before taking the decision to become a full-time artist.
With sell-out exhibitions in galleries throughout Ireland and the UK Fiona is also a regular exhibitor at the RDS Craft Fair in Dublin.
She is a founding member of the Donegal Designer Makers and has exhibited at their recent sell-out shows in Ramelton and Ardara, county Donegal. Her work is on display in the Leinster Gallery, Dublin, The Island Gallery, Coleraine, The McGilloway Gallery, Derry, Leitrim Design House and the Cat and Moon, Sligo.
From a well known family of artists, Fiona has also held several family exhibitions with her father Charlie McGinley, sister Deirdre and brother Donnchadh.
Her new website was recently used by Google as an example of a small business making use of the web, and, at the official launch in Dublin last week Fiona presented Taoiseach Enda Kenny TD with a batik painting of Croagh Patrick.
"I work in oil on canvas and Batik on silk, and my main themes are seascape and bog, inspired by memories of my childhood spent by the shore", says Fiona.
"I try to capture the patterns created by the reflection of clouds on the wet beach and the general colour and movement of the landscape. All of the scenes are close to my heart which makes them enjoyable to paint".
Iain Barr, General Manager , Waterside Theatre said "We are delighted to have Fiona show her art in Cascade Gallery, and especially as her work is inspired by the North West, I am positive it will be a very popular and successful exhibit."
"Dappled Light" runs in the Cascade Gallery, Waterside Theatre, Derry-Londonderry until Saturday 30th June, 2011.
To attend the official opening or for further information, call Fiona on +353 (0) 86 1578829 or visit www.fionahiggins.com or call the Waterside Theatre on 028 71314000.
Ends