BREAKING NEWS: A child is among six people who have been hospitalised after another horrific car crash on the Inishowen Peninisula.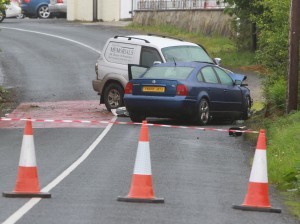 The crash happened around 6.40pm last night on the road between Ballyliffin and Carndonagh at the townland of Rasheney.
Donegaldaily understands that a jeep and a Volkswagen Passat car were involved in the accident.
We also understand that TWO people are critical as a result of the crash and have been transferred to hospitals in Dublin.
Gardai have sealed off the road to carry out a full investigation into the crash.
The crash comes almost a year after eight people were killed in the State's worst single road accident.
The investigation into that crash, which happened outside Clonmany on July 12th last year, is still ongoing.
It is believed the investigation has been hampered because of injuries sustained by one of the people involved in the crash.
More later……
Ends