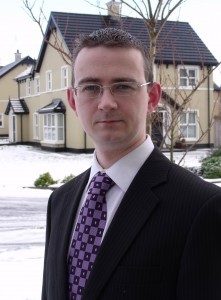 One year on since a campaign was launched in Donegal to abolish Vehicle Registration Tax, anti-VRT campaigner Ryan Stewart has launched a scathing attack on Customs and Revenue Commissioners.
Stewart claims that after the dust had settled on the public anger against Customs operations last year, some people who had paid their fines for VRT offences are now being pursued under criminal charges for obstructing Customs officers in their duty.
He also claimed a new Customs crackdown has been launched with officers, in some cases, seizing cars as parents leave children to school.
Said Stewrt: "A number of people, who last year had their vehicles seized and fines imposed, have since been in touch with me. Despite paying the fines imposed, Customs have now issued proceedings against a number of people for 'obstruction' which carries a fine of up to €5000.
"Last year, one lady in particular could not pay the on-the-spot fine on the day that she was stopped, but did so the following day, and has since paid all of the vehicle registration tax owed.
"Having complied with the 'law' she is now facing a fine of up to €5000, as are many
others."
The anti-VRT campaigner said the issuing of proceedings was extremely worrying for many people.
He told us: "I was delighted to hear the comments made last week from the Master of the High Court, Edmund Honohan, who suggested that banks were pursuing ordinary people to 'the bitter end' over outstanding personal debts, but it is clear that the state is also complicit in trying to squeeze the last few cents out of ordinary people's pockets."
Mr Stewart claimed that under EC law, it was determined that "account must be taken of the good faith of the offender when determining the penalty actually imposed on him."
Also, in relation to people who have borrowed a vehicle, for example, if you borrowed the car from a friendin Northern Ireland, where the vehicle is only temporarily in the
state, there is similar case law.
He point to a case against Greece under Article 18(C)(1) of Law No 2682/1999 it was found that, where fines were imposed, and vehicles weretemporarily immobilised, and released on payment of the fines and any other charges owed, that Greece had failed to fulfil its obligations under Council Directive 83/182/EEC of 28 March 1983, on tax exemptions within the Community for certain means of transport temporarily
imported into one Member State from another.
The EC has also found that vehicles for what constitutes a minor tax liability are disproportionate to the tax actually owed, where for example a vehicle worth €5000 can be seized for a liability of €800.
He also claimed that Revenue have endlessly given the people of Donegal the answer that if they feel they have been wronged, to appeal the decision, but Revenue's appeals process is practically non-existent, and deliberately difficult to engage in, to deter any possibility of an appeal.
In fact, most people cannot find out how to appeal, said the campaigner.
He added: "There are no appeals forms, no appeals process of note, no point of reference
when an appeal has been lodged, and the appeal is made to the very people who seized the vehicle in the first place!
"Many of those who have contacted me to find out about the possibility of an appeal have also be afraid to do so, for fear of additional fines if they are not successful."
He said taking criminal proceedings against people who have already paid fines/fees was a step too far.