THE father of an autistic boy, who-self harms, is threatening legal action to have his son's classroom support restored.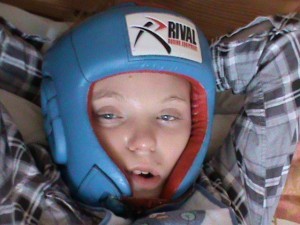 by ANITA GUIDERA, IRISH INDEPENDENT
Garbhán Hutchinson (14) who is non- verbal, doubly incontinent and requires 24- hour-care, had to be hospitalised recently after banging his head against a classroom wall.
In another incident, a Special Needs' Assistant(SNA) at St Cecilia's School in Sligo where he is a pupil, was treated in Casualty following a violent outburst by the teenager.
Despite these incidents, the school was informed in a letter last week that Garbhán's SNA support has been reduced by 16 hours, from 1.25 to .75 of an SNA, to be shared with other children.
The reason cited was "reduction in care needs".
The National Council for Special Education(NCSE) is currently allocating SNA's for the coming school year but with a recruitment cap on the 10,575 assistants currently in the system, parents fear hours may be reduced in some cases.
Lorraine Dempsey from the Special Needs Parents' Association said last night that "short sighted fixes" due to austerity measures would result in whole school populations suffering.
"Parents of new pupils entering the education system are terrified of the prospect o their frive or six year old child not being allocated an SNA to meet their care needs next September," she said.
Garbhán's father, Chris Hutchinson from Bundoran, Co Donegal, has told the Minister for Education and Skills, Ruairi Quinn that he will go to the courts to get equality for his son.
"As a direct result of the decision that has been taken, I believe the Department is now in breach of my son's educational rights under Article 42 of the constitution, and he is being placed in danger," he said.
Mr Hutchinson said his son, who is on psychiatric drugs to control his mood swings, was extremely strong and required at least one Special Needs' Assistant, preferably male, with him at all times while at school.
"He has to wear a boxing helmet to protect his head due to his extreme self injurious behaviour, which is getting worse," he said.
Last November the teenager, who is also tube fed, was hospitalised after banging his head repeatedly against a wall in the classroom.
"He could end up getting killed. Is it going to take the death of a child for this government to stop these obscene cuts," an emotional Mr Hutchinson asked yesterday.
Sinn Fein TD, Pearse Doherty, who will raise the matter with Mr Quinn next week, described the proposed reduction against a backdrop of "propping up zombie banks" as "appalling".
"If this is a benchmark, then people with children with special needs should be very worried," he said.
A spokesperson for the Department of Education and Skills pointed out that there has been no reduction in the overall number of SNAs, while expenditure on the scheme increasing by 922 per cent in the eight year period up to 2009.
"It is considered that with equitable and careful management and distribution of these resources that there should be sufficient posts to provide access to SNA support for all children who require such care support to attend school, in accordance with Departmental criteria," she said.
-end-