ONE of Donegal's leading cancer campaigners said she is confident the proposed North West Radiation Unit at Derry's Altnagelvin Hospital will now go ahead.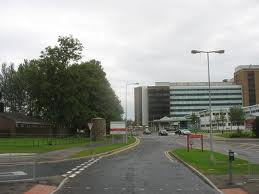 Noelle Duddy, of Co-operating for Cancer Care North West, was speaking after the North's Health Minister Edwin Poots visited the hospital.
Ms Duddy said the fact that Minister Poot visited the hospital just two days into his new post was a very positive sign.
"We welcome his visit and the fact that he has said he will make a decision regarding the future of the proposed radiotherapy unit in the next few weeks."
"Minister Poots obviously regards this project as 'top priority'. In the second day of his ministry, he has travelled to Altnagelvin to personally meet with members of the WHSCT to discuss this project.
"He has wasted no time in ensuring that he is fully briefed on the details of this case. CCC(NW) remains optimistic that when the Minister makes his announcement in the coming weeks, it will be to approve the business case."
She said the development of this Unit has implications for Donegal as well as Northern cancer patients.
Approximately one third of the patients who will attend the proposed Unit will be from Donegal and the surrounding areas with the Irish Government committed to providing a capital contribution of €19 million to the Project.
"In addition, the National Cancer Control Programme (NCCP) will contribute to the operating costs of treatment for patients from the Republic. The Department of Health and the NCCP have representatives on the Cross-Border Sub-Group, the Project Board and the Service Design and Workforce Planning Sub-Group for the development of this Project."
"North-South cooperation for this radiation unit is a win, win situation for everyone: for cancer patients; for healthcare professionals; for research & development; for politicians and for the tax payer on both sides of the border."
"Members of CCC(NW) have been lobbying for radiotherapy services to be sited in the North West Region for over six years. As a region, the North West is co-dependent on populations on either side of the Border to provide the 'critical mass' to safely provide a radiation service to cancer patients."
Ends
Tags: