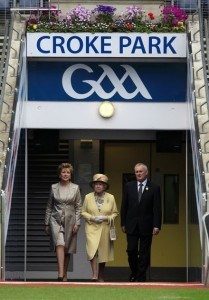 GARDAI based in Co Donegal have been involved in pitched battles with dissident thugs who went on the rampage in Dublin in protest at the visit of Britain's queen to the country.
We understand that at least five gardai from the county were on duty at the frontline in the capital when trouble erupted.
As representatives from every county in Ireland including Donegal met the queen at Croke Park yesterday, gardai fought a pitched battle with dozens of dissidents.
Hundreds of gardai from the county are on duty for the visit which is due to end tomorrow.
Speaking last night the queen offered her deep sympathy to everyone who has suffered in centuries of conflict between Britain and Ireland.
In an address at a State dinner in Dublin Castle, she spoke of the painful legacy of the past and the need to remember all those whose lives have been affected.
She began her landmark speech, which lasted more than eight minutes, in Irish by addressing 'Uachtaráin agus a chairde'.
The queen said we must bow to the past but not be bound by it. She said the relationship had not always been straightforward and that the islands had experiences more than their fair share of hardship, turbulence and loss.
In a reference to the death of Lord Mountbatten in Mullaghmore in 1979, she said the experiences had touched 'us all', and added that people could never forgot those who had died or been injured.